Last Updated on November 30, 2022 by admin
Any parent with multiple kids (or for that matter, anyone who has siblings) knows firsthand that each kid comes right out of the womb with their own unique personality, interests, sensitivities, and struggles.
It has been fun to watch my second kid choose to play with toys that my first kid didn't seem interested in, and discover toys that I hadn't realized were fun for this age group.
One of the biggest surprise hits with my second 2-year-old was nesting dolls. I had a set of traditional-style Russian dolls in the playroom that I remember playing with as a child, but my first kid showed no interest. My second child, however, loved opening the dolls up and seeing the ones inside, then putting them all back together again.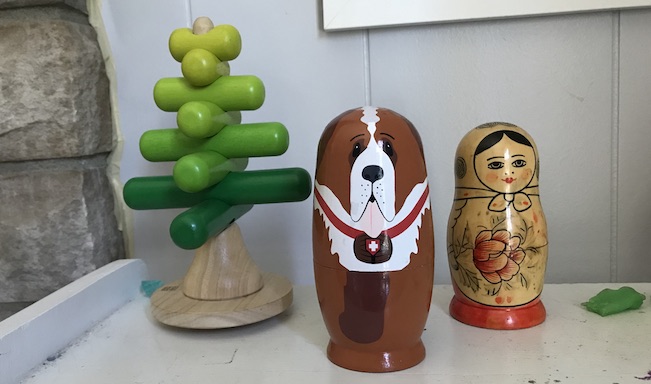 So, I got him another more modern set for his second birthday. I chose a dog-themed set on Amazon because he was pretty interested in dogs at the time. Then, when it was time to buy my two-year-old nephew a Christmas gift a few years later, I remembered how much fun the dolls were and found a ton of interesting nesting doll gift options on Etsy. I ended up choosing an arctic-animals-themed set from a California-based artist. His mom said he really liked it and even took it to bed to snuggle with him one night.
In fact, as long as you order far enough in advance for your gifting occasion, you can even order a custom set on Etsy painted to look like your family! The custom work is pretty expensive, but could be really unique. The shop I liked to also ships from Ukraine — so you can feel good about supporting an artist there.
Are you artistic yourself? You can get blank nesting dolls from Amazon, Etsy, or a local craft store and make them your own. (As an Amazon Associate, I earn from qualifying purchases.)
I love that this toy is functional, plastic-free, can support local artists (although there are a ton of cheaper ones listed online, too), and looks really nice displayed in the playroom.
Hot tip: Make sure that you check the height of the set you're buying before you buy. Ours was six inches tall with five dolls, which worked well for our kids, but there are lots of mini sets out there that are too small to be fun for toddler fingers.
The nesting tolls I bought my own two-year-old aren't available anymore on Amazon, but the nesting set shown here is from Hearthsong, a reputable U.S.-based company.
For more toy suggestions for two year olds who like to sit and concentrate, check out our post The Best Puzzles for 2-Year-Olds or The Best Games for 2-Year-Olds.